The wet markets in South East Asia are shrines to food culture. Food is built up into displays, towers and installations to admire, catch the eye and tempt. It's colourful. Limes, chilies, dragon fruits, persimmons and hibiscus flowers project a prism of riches almost vulgar. It gives olfactory pleasure, too. Inhaling over Vietnam's herb basket gives a rush of zingy green crack. In this part of the world, we can feel food without being compelled to buy. Rub pearly grains of rice in your fingertips. Prod pork. There is a kind of worship or fanaticism going on. Ritual most definitely. Routine and going through the motions, too, like all religious practice. All with the aim of getting food in the eating hole and money in the pocket.
But there is stuff underneath that rudimentary function and showy veneer, too. These markets - almost regardless of country or location - are clad with clutter and grime. I get the feeling that this is often holding the market buildings together - like a powerful glue, porous with generations of food particles and dust. A thorough scouring of these joints, I suspect, would result in a catastrophic collapse, possibly having implications for the taste of the produce. That is, it wouldn't taste as good.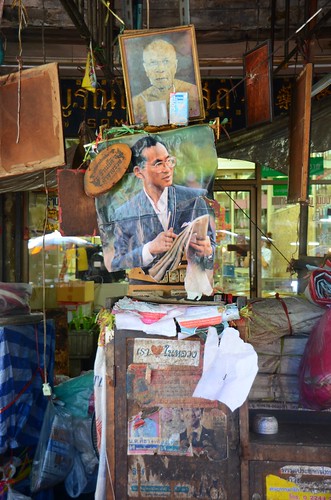 There may be in some cases a solid exterior to South East Asian market environments; a wall with a securable gate or door, like any other business enterprise. The interiors are, in contrast, a very rambunctious definition of make-shift. Every scavenged scrap of solid matter makes up the labyrinth of stalls inside. Wobbly odd timber shelves are held together with bits of twine, a rusted nail or a simple irritable wedging into putrid polystyrene or faded plastic. Not much money is being invested back into the fittings. Protection from the elements is tenuous; perishing mouldy flaps of awning, jammed up umbrellas jostled against one another, sheets of corrugated fibreglass weighted down with half a brick. And then there are the buckets and old tins carefully placed in the spaces to catch the rain when it comes. They're not called 'wet' markets for nothing.
Trading hours in these marketplaces are long. From morning dark to evening dark, a more than double shift of arduous endeavour is done by each proprietor, seven days a week. The vendors spend more time in these settings than they do at home with their families. Peopled predominately by women in Vietnam, a sisterhood akin to family is formed over the years. Decades, in some instances. Familiarity - and contempt - is palpable. It is a second home. And it certainly has a lived-in ambience. Lights are switched on and off. Relationships blow hot and cold. There is napping under blankets with newspapers A-framing the vendors' faces, blanking out light. A few steps of ladder may disappear up a manhole to a couple of square metres of hidden mezzanine. A child may pop out. In one Hanoi market, there is gyrating amidst the morning glory, with an aerobics session succeeding the morning rush.
As office workers have homely images on their desks, so too do the market vendors. Strung up to a post or sitting on an altar cloaked in the trunk of a banyan tree, kings, gods and deceased relatives look over the market transactions. Incense urns resemble beds of nails, with hundreds of expired sticks pointing heaven-ward. Flowers and fruit get offered up, too. The vendors pray that auspicious business fortune will be with them today, and every day.
Of course, they also cook and eat. Electrical cords from rice cookers and induction cooktops run across the market surfaces. Steam rises. Chopsticks click. The afternoon rush begins. Seats are vacated, bowls and plates abandoned